Good Enough for God: 6 Keys to Victory Over Feelings of Insecurity & Self-Doubt [Video & Transcript]
Welcome to I Believe Podcast!
Ever felt a feeling of uncertainty come over you subtly or out of the blue; has the fear of not measuring up ever bubbled up in you? Maybe recently? Maybe now?
Sometimes the feeling shows up as a question, like: "Am I good enough–even with God's help?"
Here's one note someone wrote:
Growing up, I never thought I could be good enough for God. In fact, everything I learned about God and His love stemmed from my view of Him as  'God the Judge. My image of God featured Him as a stern Father, sitting on His throne with a pair of binoculars in one hand and a black, permanent-ink pen in the other.
For you, maybe it's not your conception of God. You may be listening and just doubting you've what it takes to do what God is calling you to do, for example, or that you're smart of gifted enough to move on in faith.
Or maybe you just don't feel significant or needed or recognized for what you uniquely can contribute.
Maybe insecurity feels stuck to you like a pair of tights or a straight-jacket at the moment.
If you're feeling this way, you probably want to be zapped with a mega-dose of confidence. Stay with us.
There are lots of ways we get to this place of insecurity and self-doubt.  You may be one who wished for a parental relationship that made you feel secure and significant as a child and child of God. Maybe a parent left you or you felt an annoyance to a sibling or parent.
Sometimes that rejection becomes an adult brokenness and emptiness that stings and resurfaces and that makes you doubt you are lovable. Or maybe you're steeped in sin.
Please know, God desires to fill the emptiness and heal the brokenness.
Shooting Blanks
It helps in times like these to remember that one of the devil's most cunning tactics is to persuade us that we are not enough, not lovable enough, not worth enough, not good enough—regardless of our desires, our efforts, our yearnings, our faith–or after we feel we've let God down.
If you're there, glad you're here today. Everyone has been struck with self-doubt at some point. The gospel is good news. And that truth is: Satan is envious–of you!
What opportunities and potential you have he does not, so he shoots blanks—like the guy with his hand in the pocket pointing his finger that resembles a pistol.
They are lies, blanks, counterfeits.  Whole kingdom is based on lies, and God's is based on truth. It helps not to underestimate that (New Testament: Bible, John 8: 44).
The problem is that when we feel worthless, we let his blanks penetrate, we then inadvertently look for others to fill our cup when only God can fill that spot in our heart that longs to know our worth.
Here are 6 lies and 6 gospel truths to help you overcome the blanks at the root of self-doubt, discouragement, insecurity, low self-worth.  Please turn to the scriptures yourself to really soak them up.
1. Satan's Lie: I'm a Leftover.
Truth: I was chosen to come to earth and was known, loved, and valiant even before I arrived.
Before you let out your first breath, you were valiant. You lived as a spirit, as YOU, pre-mortally (Psalm 139:13; Jeremiah 1:5). You were known, respected, loved, desired. Hold onto that. Your history is of greatness. You've forgotten how great you are. Guess what. Adam actually helped in the creation of the earth but when he came here, he forgot his pre-mortal past just as we do, so we can progress on earth by faith. He had to be awakened again to those pre-mortal creative talents and possibilities. Likewise for each of us. We have a past, a glorious past. Hold on to that.
As someone I love said,
You have come literally "trailing clouds of glory." If you only knew who you are and what you did and how you earned the privileges of mortality, and not just mortality but of this time, this place, and the associates that have been meant to cross and intertwine with your lives; if you knew now the vision you had then of what this trial, this probation, what in my bitter moments what one calls "this spook alley of mortality," could produce, would produce; if you knew the latent infinite power that is locked up and hidden for your own good now—you would never again yield to any of the putdowns that are a dime a dozen in our culture today (Truman Madsen).
Remember the girl who wrote the first message I shared about her feelings toward a stern-only God? God's truth changed her. She later wrote,
I now understand that He knew me before I was born (Psalms 139:13) and called me by name (Isaiah 49:1) before I chose to develop a personal relationship with Him. I have found God to be sympathetic and merciful during my struggles to please Him.
2. I'm Just Penny Candy. I Have No Inherent Value or Significance. I Am Worthless. I Hate Myself.
Truth: I have an inherent value and worth. God loves me.
Uh-uh.  So, think on this.  Really think on this.
Name a price tag of something you think of great value—so, like the fanciest car you can imagine or an exotic estate…. What price tag would you put on it?  We tend to equate money with value, or price with value.  Let's go with a few billion dollars. So if we're you're not of value, then no one has paid a decent price for you, right?
But guess what! Jesus paid the highest price of all for you—He gave His life—His every breath and act was so you would know you are infinitely loved, worth dying for so you could live with Him again and become like Him.
Listen with your heart and mind:  John  3:16 "For God so loved [you—individually–you] that He gave His only Begotten Son."  Whether you're a homecoming queen or a peasant on Halloween; whether you're top of your class or your class feels on top of you, you are loved and priceless. And remember: we don't earn our value.  It's inherent in us.
3. Lie: I Am a Spiritual Emotional Orphan.
Truth:  You Are a Child of God, Part of a Real Divine Family.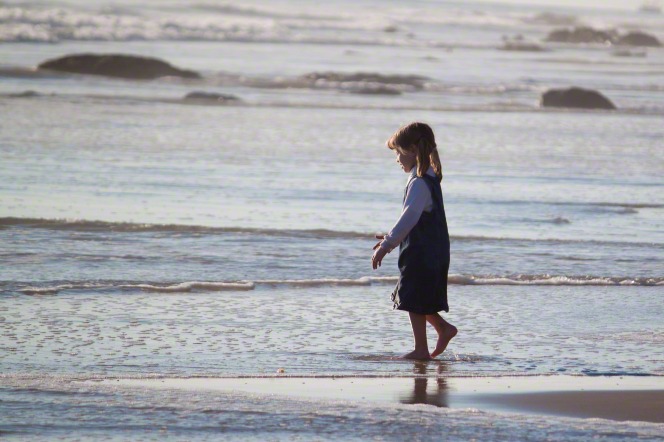 I remember when I joined the Savior's Church and wanted to be brand new–think and be more as He did.  It struck me that once I was adopted into the family of God by baptism by one in authority (which only exists in The Church of Jesus Christ) I literally had a fuller heritage in Christ–a new spiritual DNA of sorts.
In addition to your nuclear family, you are part of a divine family.  As Hebrews 12:9 says, you are a child of God—literally a child of God with core of divinity in you, to reach your potential with Christ's and the Father's help, not alone.
Sometimes we may look at God and wonder if we are a bother or we feel outside of life's spin. It's normal sometimes to be affected by Satan's spin. The truth is that the part of us that is core, our spiritual personalities, are magnificent; our flesh represents the parts of ourselves at war with the spirit, and it sometimes clouds our vision of who we really are.  We are here to overcome the flesh; Jesus died that we might so do.
Just as an adopted child is loved, treasured, cared for day and night, so are we by Christ. Regardless of how much pain we may have caused or how much better we wish to become.
4. Lie: I Am Never Going to Change
Truth: Through Baptism and Gift of the Holy Ghost, By One in Authority*, IHave Access to All of God's Grace, Power, Resources to Be Transformed By Him
Once you have a new name, a new identity, you see that God is doing a 'new thing' in you! (as He said through Isaiah: See I am doing a new thing!  Isa 43:19). That means that your old self can die, the fallen self that we all have and dislike. It means that through the Gift of the Holy Ghost, once conferred by those in authority*, we can repent and overcome through Christ's power and sacrifice (Bible, Ephesians 1:3-8).
He can fill the empty places, and transform the old crusty parts of us that need to go through baptism & receipt of the gift of the Holy Ghost by one in authority.
Please contact us if you are unsure if you've been baptized by one with divine authority or whether or not the Holy Ghost is operative in your life.
5. Lie: I Am a Weed in a World of Roses & Orchids
Truth: I Am Fearfully and Wonderfully Made
Let me share two things God says, in no uncertain terms, about your prospects in His word, which does not fail.
First, God says, "You are fearfully and wonderfully made" (Psalm 139).  Your unique personality, DNA, thoughts, feelings, giftedness, body, mind. Spirit are God's handiwork. You are not an accidental being. And you are destined for glory and greatness, as you follow God's will. Here's what God says:
"For I know the thoughts that I think toward you, says the LORD, thoughts of peace and not of evil, to give you a future and a hope" (Jeremiah 29:11). He's not just talking to the little girl in her Easter bonnet and ruffled dress and patent-leather shoes.  He's talking to the everyday patron of the universe like you or I whom He loves infinitely. He's talking to you, the Emo, the former druggie trying to turn around, the dysfunctional co-dependent, And He goes beyond to say this:
"Ye cannot behold with your natural eyes, for the present time, the design of your God concerning those things which shall come hereafter, and the glory which shall follow after much tribulation." (Doctrine and Covenants 58:3).
A pixel of present pain or circumstance isn't a portrait of future glory and destiny. Take Him at His word.
6. Lie: I'm a Total Spiritual Failure So I Must Not Be Good Enough for God
Truth: We Are All Drafts in the Process of Becoming; Becoming Perfect Is a Process
One who messaged felt this way:
I felt like a spiritual failure, a person who didn't meet the requirements God demanded to enter heaven. Although I was committed to following Jesus, I recognized that my attitudes, words, and actions were far from perfect. I wondered, "Does God expect perfection in daily living? No bad choices, no weaknesses, no mistakes allowed? Was I asking for forgiveness for my bad attitudes, words and actions quickly enough?" I recognized how often I failed to be like Jesus. I wasn't ever sure I was good enough to please God.
So are we good enough?  We are in process of becoming, like a child is becoming an adult.  Do we look at children and say, Your first steps are not good enough?  Even though they trip, fall, get up, trip and fall again?
No, we encourage the child to grow. Do you tell a child practicing the piano to stop hitting wrong notes altogether and at once? Likewise, the arms of Father and the Savior are extended to all, to come unto Him, to walk into His arms, no matter how imperfectly we strive along the way.
The key is to strive, to recognize our impotence and sin without His grace and atoning aid, and to commit to follow His will repenting as we go.
Sometimes deep feelings of insignificance are essential for God to develop what is lacking in me so one day He can work more powerfully through us.
He sees you. He notices all you do and He knows all that you long for. In fact, Jesus is the only One who can meet your deepest need to be known, accepted and pursued simply because of who you already are and who He desires you to become, just as you do. Listen to this from Psalm 139:
Whither shall I go from thy spirit? or whither shall I flee from thy presence? If I ascend up into heaven, thou art there: if I make my bed in hell, behold, thou art there. If I take the wings of the morning, and dwell in the uttermost parts of the sea; Even there shall thy hand lead me, and thy right hand shall hold me. (Psalms 139: 7-10).
God isn't going to let you run away. Look at those words.
His hand will lead you: That's guidance.
His hand will direct you: That's security.
6. Lie:  I Need Others' Approval to Feel Secure
Truth:  I Need God's Approval to Feel Secure
It's easy to fall into the booby-trap of comparing ourselves in the dim light of the daily grind to others in the limelight of airbrushed magazine covers or those catching the gaze of the opposite sex. The Lord speaks to us in 2 Corinthians 10:12 –those who "measure themselves by themselves," wanting us to find a better way.
Some of us look to friends, coworkers, boyfriends, girlfriends, or other person of influence for appraisal and actually seek validation in other peoples' opinions. We add up what our life amounts to and we feel we fall short.
That happens as we foolishly try to find validations only in our accomplishments or excessive commitments and not in our relationship with God and others, and in our sense of who we are. Our accomplishments are part of us, but we are validated whether or not we reach number one on the billboard charts or make the band front.
Sometimes we look for that validation desperately as teens and become boy crazy—we want to, as one Christian writer, Hendrix, says, "to appear on the eyelids of some guy or girl after we have walked through a room." That can then lead to the fear that we are being sought after because of what we can do or what others can gain from us, but for just who we are.
We then become convinced we are not worth knowing or pursuing and even doubt anyone would stick with us if we let them get too close. So we pretend things are fine on outside and live in wake of doubt on inside.
Replace that kind of bondage to what others think of us with confidence in knowing God is with you!!! There's nothing like it. We need to know how to know we are on the course He approves and how to feel and access His love, for that is what brings us confidence and unshackles us from insecurity.
When God wanted to calm insecure people like Moses, Joshua, Elijah, Haggai's people, He sent one message:  4 words.  "I am with you" (Jeremiah 1:8, 19; Moses 1:26).
When you strive to do God's will and work His way, or when you come to Him in brokenness wanting to get there, He will respond and you will know He is with you.  I promise you that that God-confidence is what you are seeking in your life when it's filled with self-doubt, focus, and insecurity. When you feel that, hear those words, seek and notice God's presence with you, it will sustain you and be all you need to carry on and feel secure.
Seek that validation! Park there. His stamp on your life, His Hand in your life, is the remedy. No applause, no wink, no fleeting praise can touch the penetrating feeling of knowing God is with you. Ask for that awareness constantly.
Close
Let us find our hope and confidence in God, as Paul said, "being confident of this that He who began a good work in you will carry it on to completion in Christ Jesus" (Philippians 1:6). We are His children.
To know how to accept Him, learn of his full gospel, how you can become member of the Savior's Church, please text, contact us through Facebook, YouTube, Google Plus, or at ibelievepodcast.com.
Additional Episodes of I Believe Podcast:
Finding Peace and Stillness Through Jesus Christ
When Prayers Seem Unanswered: With Michael Wilcox
Find us on:                                                                             Or call: 185KNOWGOD1
Twitter    Facebook    Google+    YouTube    Subscribe on Itunes  

Footnote:
*If you are uncertain if you have been baptized by the authority of Jesus Christ, or wish to know more, please leave a comment here or on our social media pages. Jesus Christ has restored to the earth His authority to baptize, and it is found with His church. "Baptism is the primary ordinance of the gospel. It is the gate through which all come into the Church. . . .The holding of the Aaronic Priesthood, and the exercise of its power [and authority], is not a small or unimportant thing . . . It is the priesthood of God, with authority it act in the name of the Savior of mankind" (G. Hinckley).
In the epilogue of Bonds That Make Us Free, Arbinger's founder, Terry Warner, discusses how we can "cleanse ourselves from insecurity and gain self-assurance by doing exactly what our inner sense for others dictates. This is opposed to constantly struggling to prop up a dubious, idealized image of ourselves…This does not artificially calm our insecurities but instead frees us from them."
He asserts that the negative kind of dependency that comes from insecurity is a "bondage maintained by comparisons, judgments, and generally unspoken mistrust." He goes on to to say when we do exactly as our inner sense for others dictates, it "often requires standing undaunted against the disapproval of the majority" which, according to Warner, manifests the purest kind of courage.